Presentation of the dental surgery practice of Dr Michaël Lumbroso
Operating theatre
Dental implantology is a demanding and rigorous discipline because it requires specific technical knowledge. Technological advances in the field of dental care allow practitioners to improve the quality and precision of their interventions.
All the care concerning the placement of dental implants is carried out entirely in the operating theatre of the practice. This is accessible via two airlocks: one for the patient, and one for the practitioner. This arrangement makes it possible to control hygiene and drastically reduce any risk of nosocomial infections.
In order to improve hygiene and asepsis control in the operating theatre, an air treatment system incorporating a High Efficiency Particulate Air Filter (HEPA) has been installed. This device is capable of filtering out the finest particles (diameter greater than or equal to 0.3 µm) and eliminating dust formation in the operating area.
Equipment used in the practice
The practitioners at Dr. Michaël Lumbroso's dental practice use state-of-the-art dental care equipment.
The practice's treatment rooms are all equipped with digital radiology. In addition, the practice is equipped with a Panoramic X-ray and a Cone BeamThis allows us to obtain a very precise 3D view of the patient's mouth and teeth while reducing the level of radiation compared to conventional scans. The Cone Beam examination is an essential step before any implantology procedure, as it allows to accurately measure the amount of available bone.
In order to improve the precision of the most delicate operations, dentists also use an operating microscope with a magnification of 20 times.
We are also equipped with a Complete CAD/CAM chain (Computer Aided Design and Manufacturing), with an optical camera allowing us to make 3D impressions.
Operating theatre
For surgical interventions, we use an operating theatre that complies with the strictest standards and is equipped with a HEPA filter to purify the air. It is served by two SAS: a patient SAS and a practitioner SAS.
Cone beam
We are equipped with a cone beam, a type of scanner with reduced fields and less radiation: a (r)evolution in the world of dental surgery.
CAD/CAM chain
Our complete CAD/CAM (Computer Aided Design and Manufacturing) chain called CEREC® guarantees the quality and precision of your ceramic prostheses.
Operating microscope
The microscope supports us in microsurgery and sinus lift operations. It allows us to work safely and precisely.
Other equipment
We are equipped with specific state-of-the-art equipment that greatly improves your comfort during treatment sessions (osteocentral anaesthesia: instantaneous, painless, very effective and reduces anaesthesia of the lips; digital X-ray sensors; ultrasound with feedback technology for more pleasant scaling, etc.)
Hygiene and sterilisation
The safety and well-being of patients are at the heart of the practice's medical requirements and concerns. For this reason, the practice is equipped with a sterilisation chain This enables the quality and packaging of the instruments used in the procedures to be fully monitored and the instruments used in the treatment to be traced back to their origin.
The various stages of the sterilisation cycle (pre-disinfection, cleaning, rinsing, drying, packaging, control) are carried out and controlled by three qualified dental assistants: Stéphanie MAILLET, Astrid De RENDINGER, & Olesya SABOT (title registered in the Répertoire National des Certifications Professionnelles, level IV, code CNIS 331S (decree of 02/10/2006 - JO of 24/10/2006).
Click here to learn more about the sterilisation cycle.
Our team
Professionals at your service
3
Qualified dental assistants
Doctor of Dental Surgery
Michaël LUMBROSO
RPPS N°: 10003523858, ADELI N°: 784707739, O.N.C.D. N°: 78-4925
Doctor of Dental Surgery, University of Paris VII
University Diploma in Maxillofacial Rehabilitation Surgery, Paris VII
Professional orientation: Surgical Odontology & Prosthetics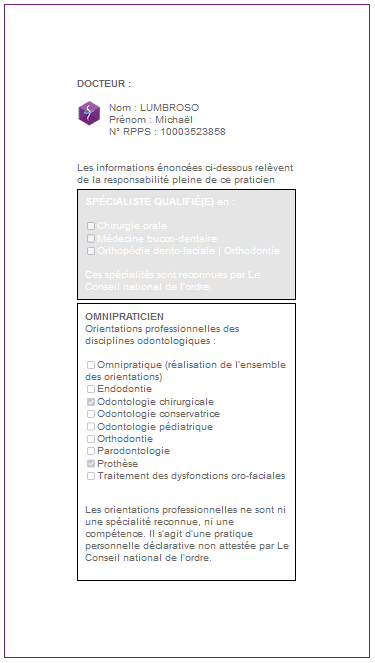 Doctor of Dental Surgery
Isabelle LUMBROSO
RPPS NUMBER: 10003525754
ADELI NUMBER: 784713257
N.O.C.D. NUMBER: 78-4948
Doctor of Dental Surgery, Université Libre de Bruxelles
Professional orientation: Periodontology & Prosthetics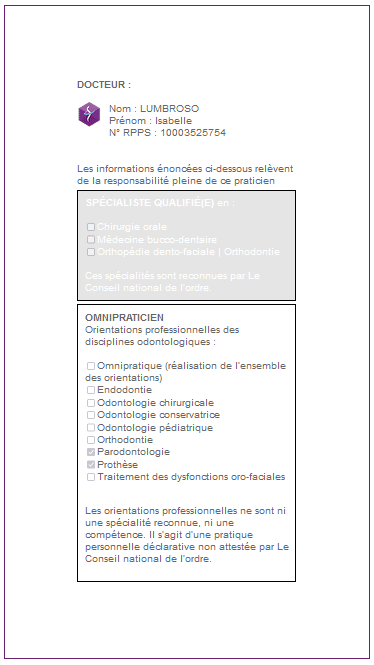 Doctor of Dental Surgery
Claire GONNETAN
RPPS NUMBER: 10101217510
ADELI NUMBER: 784714040
N.O.C.D. NUMBER: 78-5861
Doctor of Dental Surgery, University of Nantes
Professional orientation: Omnipractice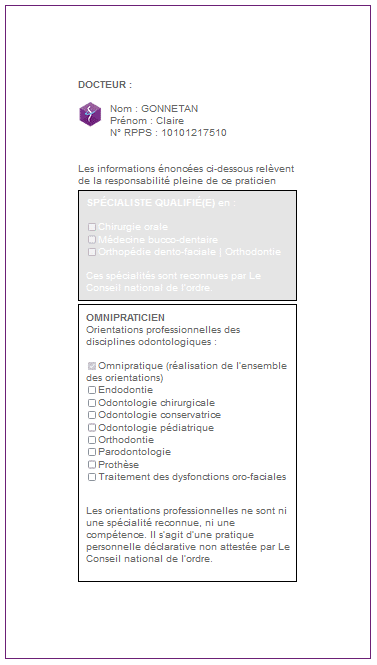 Qualified Dental Assistant
Stéphanie MAILLET
Qualified Dental Assistant
Assistant to Dr M. LUMBROSO
Head of the Operating Theatre
Qualified Dental Assistant
Céline SIERRA
Qualified Dental Assistant
Assistant to Dr I. LUMBROSO
Specific training for
Initial Prophylactic Preparation
Qualified Dental Assistant
Olesya SABOT
Qualified Dental Assistant
Assistant to Dr GONNETAN
Specific training for
Initial Prophylactic Preparation
Advisory Assistant
Isabelle FRÉTÉ
Qualified Dental Assistant
Advisory Assistant
Patient reception
Responsible for the coordination of treatment plans
Medical Secretary
Séverine DESPRAT
Medical Secretary
Head of Telephone Reception