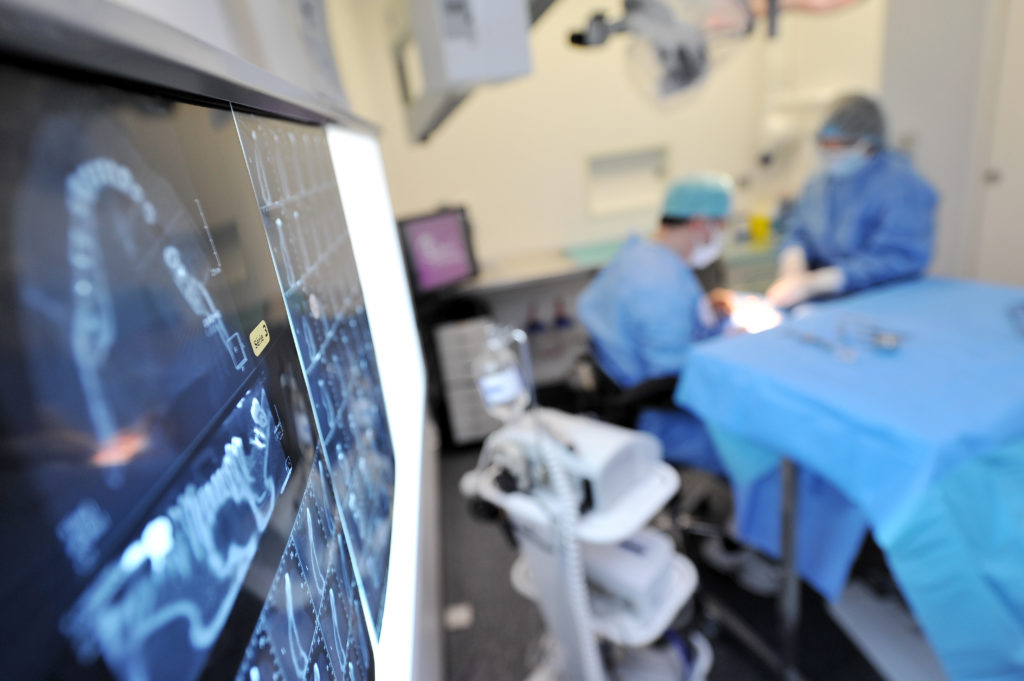 Our practice is equipped with an operating theatre, the nerve centre of our practice, which allows us to carry out all surgical procedures in optimal conditions of comfort and asepsis.
This is accessible via two airlocks: one for the patient and one for the nursing staff. This arrangement makes it possible to control hygiene and drastically reduce any risk of nosocomial infections. Before entering the surgery room, you will wear overshoes, a cap and a single-use gown. The patient lock also offers you the possibility to relax after the operation, to receive quietly the post-operative recommendations given by Stéphanie, our Qualified Dental Assistant and Head of the Operating Theatre.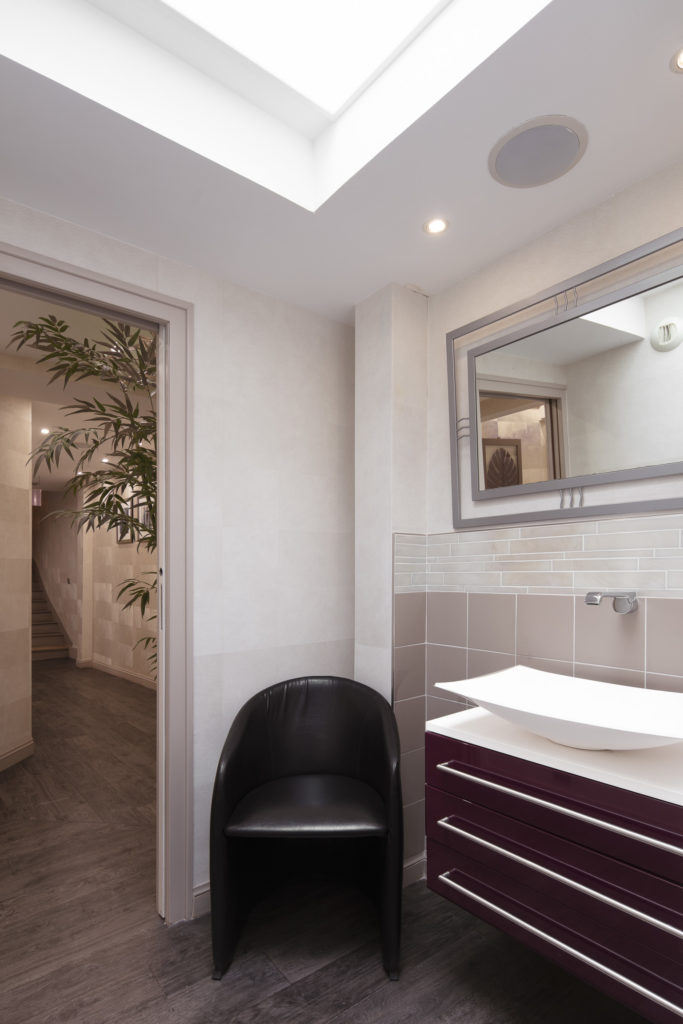 In order to improve hygiene and asepsis control in the operating theatre, an air treatment system incorporating a High Efficiency Particulate Air Filter (HEPA) was installed and integrated into the air conditioning system. This device is capable of filtering out the finest particles (diameter greater than or equal to 0.3 µm) and eliminating dust formation in the operating area.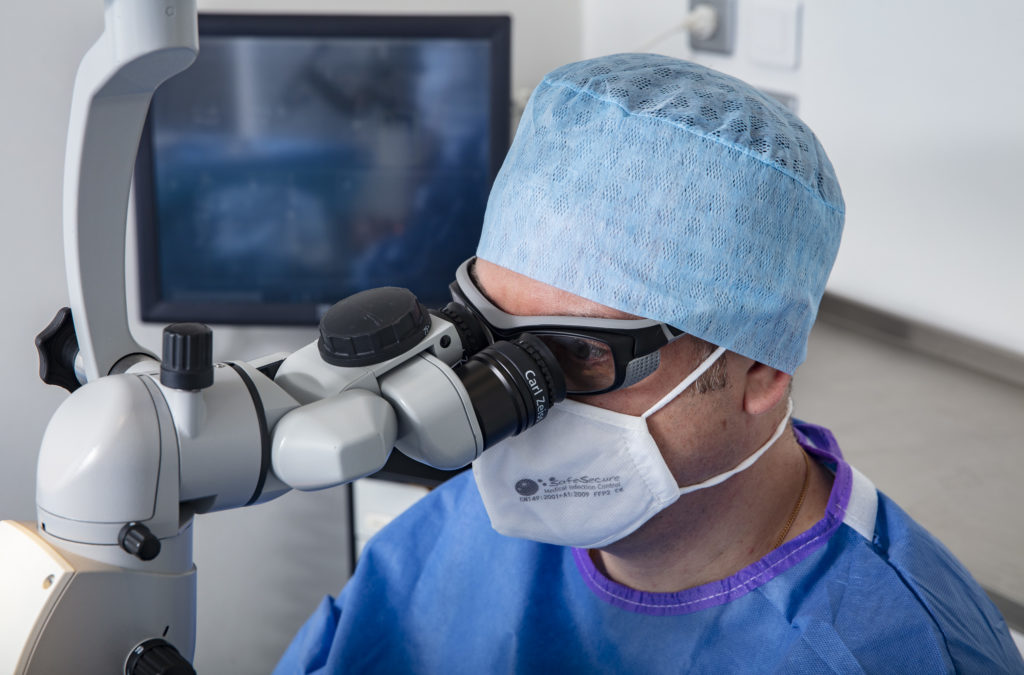 To improve the precision of the gestures during the most delicate interventions, the block is also equipped with a Carl ZEISS® operating microscope which offers a magnification of 20 times. Indispensable for certain operations such as Apical MicrosurgeryIt is a real plus in the performance of Sinus Liftor during difficult extractions.
In addition, our block is equipped with a whole series of devices to improve the quality of care or asepsis, such as a vacuum pump for sterile suction from A to Z, successive filters for the quality of the water in the hand-washing unit in the practitioner's locker, a motorised bridge table to adapt to all patient morphologies, a shape memory surgery chair for patient comfort, the PIEZZOCHIRURGY for safety during bone augmentation, a specific ceiling light for surgical lighting with calibrated colourimetry for better contrast, baseboard risers for easy cleaning of the floors, fully removable operating theatre furniture for optimal cleaning, a touch screen that can be operated with a sterile stylus so that you do not have to use a mouse or keyboard during surgery, a pass-through for direct access to the operating theatre, a radiology tube to check the patient's condition, and an X-ray tube to check the patient's condition. sterilisationA touch screen that can be handled with a sterile pen so that you do not have to use a mouse or keyboard during the operation, a pass-through for direct access to the patient's table, an X-ray tube to check an implant for example during insertion, music in the patient's locker and the operating theatre for a relaxed atmosphere, etc...
Everything is thought out beforehand to simplify the procedures and to make you as comfortable as possible during the treatment.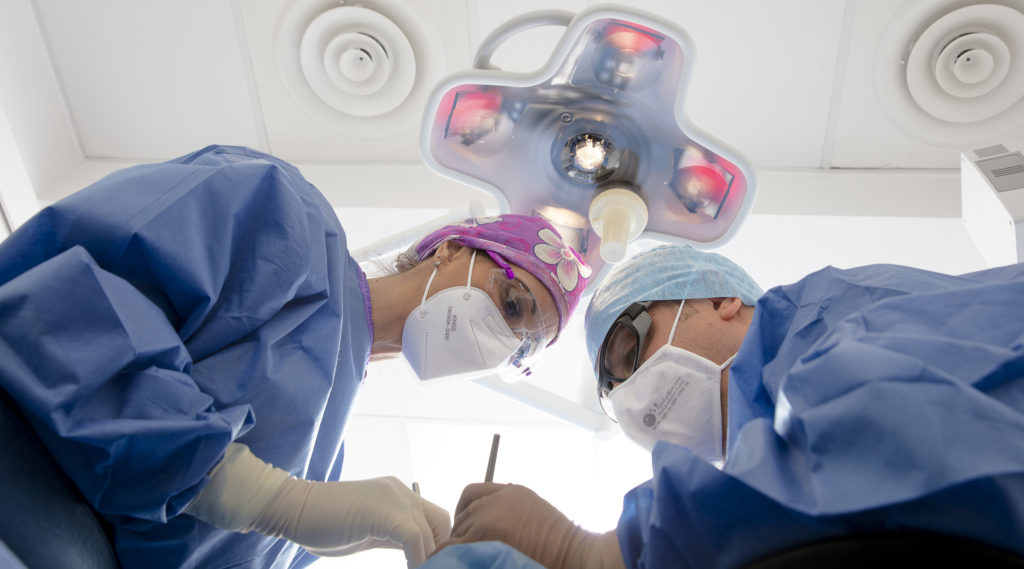 For some bone augmentation procedures, strict hygiene and aseptic conditions are required, and an operating theatre is preferable.
The French National Authority for Health (HAS) published a summary in 2008 on these subjects ("conditions for performing oral implantology procedures: technical environment"): "Bone ridge expansion, techniques using osteotomes such as Summers osteotomies, sinus floor enhancement with the use of intraoral bone harvesting material or bone substitute material and bone autografts can be performed in specific or adapted operating rooms or in the operating theatre. "