Dentists are concerned about the oral health of the French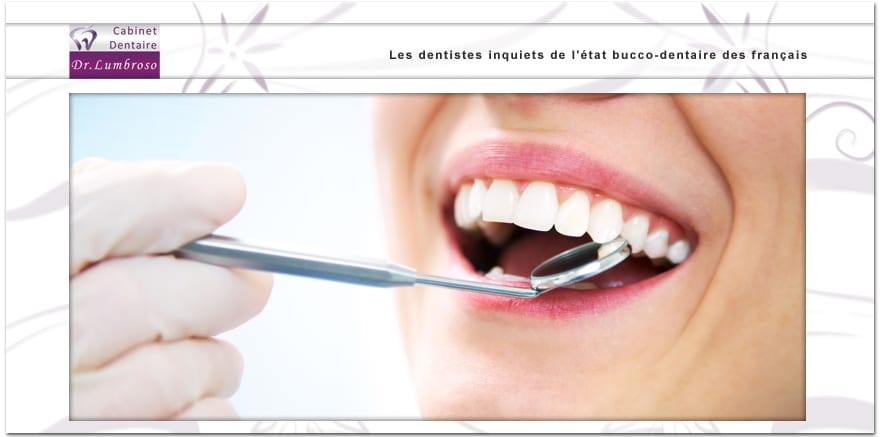 Too many French people are losing their teeth prematurely. This is the cry of alarm launched by the French Union for Oral Health (UFSBD), on the occasion of World Oral Health Day on 20 March. The cause: the lack of hygiene, prevention, care, means and political will.
Losing your teeth in France in 2013 is an intolerable reality for dentists! And they are keen to make this known, through the French Union for Oral Health (UFSBD), which deplores the delay in the fight against periodontal disease (infection of the gums and tissues supporting the teeth).

Although oral health has generally improved in France in recent years, dentists are still concerned about the health of adults. A 2010 European Commission study on the dental health of Europeans found that only 34% of French people over the age of 15 claim to have all their natural teeth, putting our country well below the continental average of 41%, well behind the UK (50%) and Spain (47%).

Sophie Dartevelle, president of the UFSBD, regrets that public policies have focused too much on young people, to the detriment of adults who tend to neglect their oral hygiene. With the more or less serious consequences that we know: periodontal diseases, caries formation, gingivitis, tooth loss.
Focus on prevention and hygiene
Unfortunately, these figures reflect a certain neglect of dental hygiene in France. One adult in ten does not even brush his or her teeth once a day! And there is always a good reason for putting off the annual visit to the dentist: financial problems, fear of pain, etc. Bad calculation, because putting off the problem only makes it worse. And when dental pain occurs, it is already too late!

French dentists are sounding the alarm about the increase in periodontal disease, which particularly affects pregnant women, the elderly, people with chronic illnesses, people in precarious situations and the disabled. Periodontal diseases are responsible for 14,000 deaths per year in France.

In fact, periodontal diseases are important risk factors for many other pathologies: cardiovascular diseases, type 2 diabetes, rheumatoid arthritis, premature births, etc. Read our fact sheet on the links between diabetes and periodontal diseases here.

More than 50% of the French population has a Gingivitis (superficial gum infection) and 20% of the adult population in France has Periodontitis (deeper infection leading to bone loss)!

In order to prevent the risks of periodontitis, it is recommended to carefully brush the teeth three times a day after each meal and to consult a dentist once or twice a year.


Dr Michaël LUMBROSO

Implantologist - Periodontologist - Dental Surgeon in Versailles

- Source : Le Point.fr - Published on 20/03/2013 at 06:15: "The French lose more teeth than their neighbours"
- National survey of 2002-2003 (NPASES I) organised by the U.F.S.B.D. in collaboration with the CETAF under the scientific direction of Prof. Denis Bourgeois here